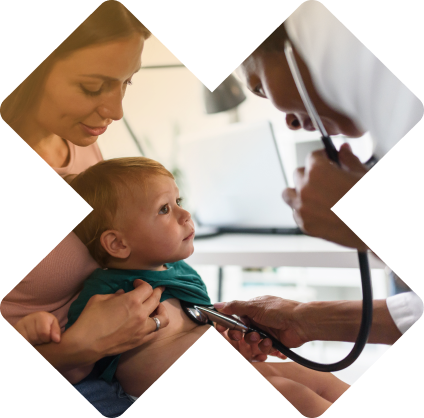 Like having a doctor in the family
Urgent care with kindness and compassion
Our doctors and staff are uniquely trained to treat patients with emergency-level acuity of care, but we're also close at hand.  We live in the communities we serve, and we treat our patients like our neighbors because, well, we are your neighbors. We believe that what's good for you is better for all of us.
We've also felt the shock of opening hospital bills we can't afford. We know the frustration of waiting for hours at "urgent care" clinics for subpar treatment. And that's why we've decided to do things differently, to reimagine the local walk-in clinic experience to put patient needs first. Because there is a difference between providing care and taking care.
We're treating our patients like we would our own families. That means care that isn't only faster and better, but gives you peace of mind knowing you're getting expert attention in a comfortable premium setting, close to home. All so you can feel better, faster.
A difference you can feel
Elevating urgent care
A difference you can feel
Elevating urgent care
Wait less
See an advanced care provider faster than you can in a traditional hospital.
Spend less
Get premium care while paying lower, transparent prices.
Get treated better
Rest assured that you're receiving the best care from experienced doctors.
Additional benefits
55 Convenient Locations
Throughout Southern California
On-Site X-rays
And lab for you convenience
Special Care for Kids
Pediatrics room just for kids
Exer's Patient Portal
Provides convenient and easy access to your health information
Convenient Time
Open daily with extended hours
VirtualCare by Exer
Lets you be seen by a provider anywhere in Southern California
We're actively recruiting medical and healthcare experts to join us!