About clinic

Are you new to Exer? Learn all about our specific services here. Our clinics are staffed with experienced emergency room doctors and other medical professionals to help with life's everyday emergencies. We also have on-site x-rays, labs, pharmacy, IV, splinting, laceration, and other services. Our goal is to offer patients more comprehensive medical services than a typical walk-in urgent care.
By working in partnership with Huntington Hospital, we are leading a significant movement in healthcare to bring emergency medicine directly into more communities while easing the strain on local Emergency Departments.

Unknown location
Address unknown
(Distance unknown)
Visit This Clinic
Open 7 days a week, from 9am to 9pm. (Last patient registered at 8:30pm)
Services
Available
Currently Unavailable
Cough, Cold, Flu
Cuts, Rash, Burns, Bites
Diarrhea, Vomiting
Testing: COVID, UTI, STD
X-Rays
Pre-Op & Sports Physicals
IV Treatments
Parking
Ample complimentary parking is available in the lot surrounding the clinic.
Site director
Dr. Mikhail, originally from Cairo, Egypt, moved to the U.S. in the early '70s with her family. She received her undergraduate degree from the University of Southern California and her graduate degree from Wake Forest University School of Medicine. She completed her residency at USC Emergency Medicine Residency and a Fellowship in Forensic Emergency Medicine. Besides leading as Site Director at Exer Pasadena and La Canada Flintridge, she stays on the cutting edge of emergency medicine while serving as the Medical Director for Huntington Urgent Care Medical Group (HUCMG). Dr. Mikhail is also fluent in English, Spanish, and Arabic. When not practicing medicine, she keeps busy with traveling, cooking, dancing, and staying fit.
Other nearby locations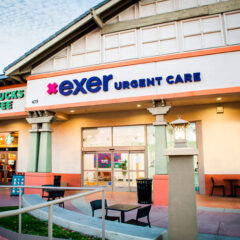 La Canada Flintridge
475 Foothill Blvd, La Cañada Flintridge, CA, USA
Visit This Clinic